What are you investing in?
The Scheme is a contributory mortgage scheme licensed under the Financial Markets Conduct Act 2013 (FMCA) and governed by a Governing Document between Obsidian Group Limited and its supervisor, Covenant Trustee Services Limited. As a Member in the Scheme you will have a Member Account in which you can hold (through Obsidian Group Limited) in cash and interests in loans. You can choose the loans you invest in.
The investment objective of the Scheme is to give Members the opportunity to earn a pre-tax return (after fees and expenses) of at least 1% per annum higher than the weighted average six-month term deposit rate as published by the Reserve Bank, as at 06 May 2022 being 2.15%.
Current investment objective is 3.15% per annum.
As at 30 April 2022 return on investment for the Scheme is 5.34%
Loans offered by the Scheme for the Quarter ending 31 March 2022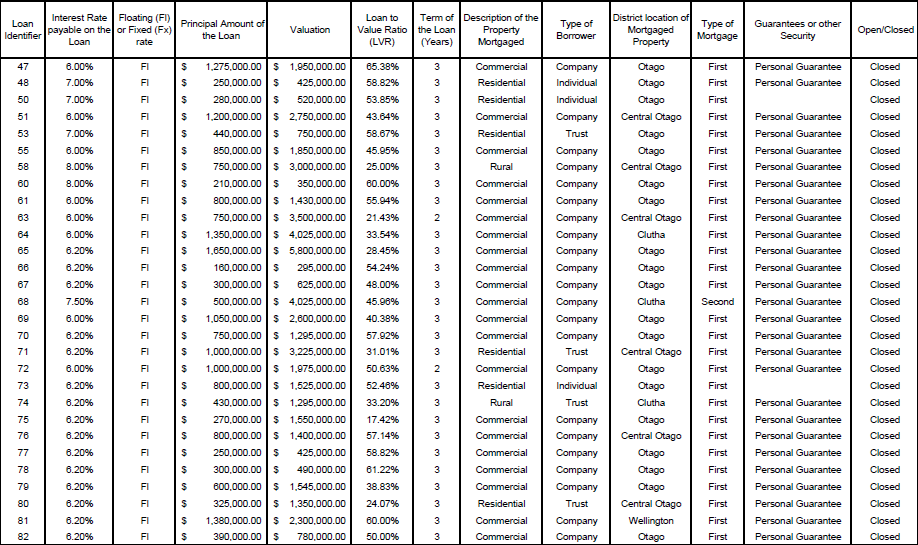 The Scheme's investment strategy is primarily to source investments in loans secured over real property in Otago, Southland, Central Otago and Canterbury.
The main assets of the Scheme will be Members interest in loans secured over real property and cash held in Member Accounts.
The Scheme will not borrow funds to provide loans. Loans will be funded by Members.
What fees will you pay?
Because of how the Scheme works and the nature of the fees charged we cannot make an aggregate estimate of fees and expenses to be charged now or in the future. Aggregate estimated fees will be different for each Member.
Below summarises fees and expenses. Further information about how fees are charged are detailed in our Product Disclosure Statement.
Interest Margin Fee - typically 12-18% of the interest earned by a Member on each loan funded from that Member's Account
Bank Interest Fee - Currently calculated at the rate of 10% of the interest earned. This may be varied from time to time
Early Withdrawal Costs - Each early withdrawal cost will be different depending on the loan the Member is invested in, however it will typically include a new registered valuation, independent solicitor's costs, documentation costs, and any further cost that the Manager deems necessary.
Other Fees - These are not limited to valuation fees, inspection fees and credit reports.
How can you get your money out?
Your interest in the Scheme is not redeemable. However, you can withdraw all or part of the cash (less, fees, tax or expenses) in your Member Account by providing a withdrawal notice to the Manager. We can help you with this. Contact enquiries@obsidiangroup.co.nz.
You cannot generally withdraw any amount invested in a current loan, until it is repaid as cash into your Member Account.
Your investment in the Scheme cannot be sold or transferred to anyone else.
How will your investment be taxed?
Members are required to advise the Manager of the rate of Resident Withholding Tax they want deducted from their interest payments.
This scheme is not a portfolio investment entity (PIE).
Taxation can have significant consequences for Members investments. Queries regarding tax consequences of an investment in the Scheme should be obtained by Members from a specialised tax adviser. New Zealand tax laws are complex and subject to change.
What are the key risks of this investment?
Investments in contributory mortgage schemes are risky. You should consider whether the degree of uncertainty associated with investing in loans (also referred to as mortgage securities) and their returns is suitable for you.
Because each Member selects the loans they wish to invest in, there is a degree of uncertainty as to the return. Returns will vary from Member to Member.
A general downturn in the national property market may cause the security over which the Member holds an interest in a registered mortgage to decrease in realisable value. This may result in the Member's interest in a specific loan (after the loan is repaid) to be of less value than the initial investment.
A specific borrower may become unable to meet their payment obligation when due on their mortgage which may result in an enforcement of the security held by the Scheme against the Borrower i.e a mortgagee sale of the property. If enforcement action is taken there may be a short fall where the sale proceeds of the security property are not sufficient to cover in full the invested funds and costs incurred in enforcing or recovering the repayment of principal and interest under the relevant loan.
The Scheme mitigates against this risk by not advancing funds greater than 66% of a registered valuation of the secured property by way of first mortgage and no greater sum than 80% by way of second mortgage. The property would need to sell for significantly less than the valuation before any loss to the member occurs.
For details about Investment risks please download a copy of our Product Disclosure Statement.